Looking for a different version of this character?
As a result of the 2011 initiative, the New 52, the entire line of DC characters was relaunched, incorporating properties belonging to the company's imprints: Wildstorm, Milestone, and Vertigo. As such, elements of this character's history have been altered in some way from the previous incarnation's. For a complete list of all versions of this character, see our disambiguation page.
This project page needs to be cleaned up.

This article needs maintenance and organization, as it may have become cluttered or confusing. Its heart is in a good place, it's just a little special. Won't you please help out an article in need? This template will categorize articles that include it into the Clean Up task category.
History
Thaal Sinestro of Korugar is the arch-nemesis of Green Lantern. At one point the greatest member of the Green Lantern Corps, he was corrupted by his power and exiled for crimes against his own people. He now seeks to impose his own order and control onto the universe, employing a yellow power ring to combat the green he has grown to despise. His prowess and ruthlessness have made him one of the most feared villains in existence, and eventually he establishes his own Sinestro Corps.
Origin

Expand
This section of the article does not provide a complete profile of the subject. You can help out by providing additional information, expanding on the subject matter in order to bring this article to a higher standard of quality.
This template will categorize articles that include it into Category:Incomplete Articles.
Green Lantern
Returning to Korugar after the Guardians decide to leave him with the ring, Sinestro learns that his Corps have reverted to their brutal methods, terrorising and slaughtering the people of Korugar rather than ruling it. Sinestro creates a new Green Lantern ring for Hal Jordan, albeit one that he can shut off at will, so that Jordan can help him retake control of the Sinestro Corps, who now want him dead in the belief that his killer will become the new Sinestro Corps leader.[1][2] After turning various Korugarian prisoners into a temporary Green Lantern Corps using short-lived duplicates of Sinestro's ring,[3] Sinestro and Hal are able to hold off the Sinestro Corps long enough to drain the power away from the Central Power Battery of the Sinestro Corps, de-powering all of the Corps members on Korugar, although those more distant from the battery will still have access to their own power supplies.[4] Later, all Lanterns' rings register that the Sinestro Corps have disbanded with 98% of all known Corpsmen dead or incarcerated, requiring Arkillo, who was cut off from the other Corps in the Orrery with the New Guardians during this attack, to use a new, independent power battery forged by the Weaponer from the fear of the Korugarians.[5] It has since been revealed that the Guardians were responsible for Sinestro acquiring a Green Lantern ring in an attempt to undermine the Sinestro Corps as part of their future plans to destroy all seven Corps.[6] During the conclusion of the "Wrath of the First Lantern" storyline, Sinestro once again becomes a member of the Sinestro Corps after the destruction of Korugar at the hands of Volthoom, and after bonding with Parallax, he reactivates the yellow rings and releases all the Sinestro Corps members who were incarcerated on Oa. Afterwards, he killed every one of the Guardians of the Universe but Sayd and Ganthet, exiling them from Oa instead, and left all of the corps' behind, nothing involving them having any meaning to him any longer with Korugar destroyed.[7][8]
Forever Evil
Sinestro is revealed to be among the villains split on the idea of how to handle Earth. He is said to have a good relationship with Black Adam. He returns to Earth due to the powerful use of a Qwardian Power Ring by Batman against Power Ring. He later tells Batman that he left himself vulnerable by resisting the bond with the ring, and destroyed Power Ring. Sinestro also mentioned that Batman would make a fine Sinestro Corpsman, vaguely hinting at Batman's experience with the yellow ring of fear in the past.
Godhead
Incomplete
There's something missing here. This section of the article is incomplete, and contains information, but requires more before it can be considered complete. You can help DC Database by editing this page, providing additional information to bring this article to a higher standard of quality.
Sinestro's corps is attacked by the New gods and he declares war on them in retaliation.

Powers and Abilities
Powers
Fear Attunement: Sinestro has an innate understanding of the fears of others, even without access to his ring. He also seems to have some form of mental link with his corps members which possibly is attributed to his understanding of others fears as well.[9]
Abilities
Indomitable Will: According to Ion, the living embodiment of willpower, Sinestro has the single most indomitable will in all of creation.[10]
Paraphernalia
Equipment
Weapons
Notes
Related
Links
Footnotes

Indigo Tribe member
This character is or was a member of the Indigo Tribe. These are individuals who show an incredible capacity for compassion, and were given Power Rings


This template will categorize articles that include it into the "Indigo Tribe members category."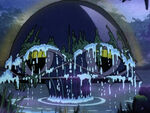 Legion of Doom member
This character is or was a member of the Legion of Doom, a team of supervillains culled together for the purpose of conquering the world and defeating the Super Friends, in any of its various incarnations. This template will categorize articles that include it into the "Legion of Doom members" category.