Thanagar
Talk

0
80,090pages on
this wiki

Location Details
History
Silver Age History
Section not yet written

The Equalizing Plague
A being known as the Equalizer injected the people of Thanagar with a widespread plague which robbed the populace of their individuality. The people of Thanagar became little more than a race of submissive drones. It wasn't until the deposed queen of Alstair Hyathis came to Thanagar that the plague came to an end. Hyathis agreed to heal the Thanagarians, but in exchange they had to accept her as their new ruler. The Thanagarians agreed and Hyathis became the new monarch of Thanagar. Hyathis' reign was relatively peaceful and the people of Thanagar labored intensely to rebuild their culture.[1]
The First Rann/Thanagar War
Section not yet written

The Shadow War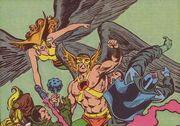 Even after Hyathis was deposed, the people of Thanagar were still suffering from a fundamental culture shock as a result of the Equalizing Plague. Though they had accepted Hyathis' militaristic rule, the citizenry loomed on the verge of a new Dark Age. Gangs of "thrill-thieves" programmed a virus that destroyed portions of Thanagar's planetary data network, destroying mountains of scientific knowledge. Desperate to reclaim their heritage, a group of Thanagarian militants decided to take action. A commander named Fell Andar learned that Thanagar's most valued police officer Katar Hol and his wife Shayera had long ago left Thanagar to learn new crime-fighting techniques on Earth. He also knew that Katar brought with him a wide range of Thanagarian technology. Fell brought together a cadre of sympathetic Thanagarians and together they instigated a secret "Shadow War" against Earth. Arriving on Earth in secret, they established a base of operations inside a cave at Grinder's Bluff in Midway City. Their first mission involved stealing anti-gravity technology from Hawkman and Hawkwoman. The mission proved unsuccessful however and one of the agents, Rab Mekir, inadvertently murdered artist Mavis Trent mistakenly believing her to be Hawkwoman.[2] Fell Andar soon came into possession of an Absorbascon and used it in an effort to locate other pieces of lost Thanagarian technology. He even managed to commandeer Hawkman's starship with the intent of turning into a missile aimed at the Justice League Compound. Hawkman and Hawkwoman foiled Andar's plans however, though doing so required the destruction of their own ship, as well as most of Fell Andar's agents. Fell and his lieutenant survived the blast, though Fell was killed by one of his own agents soon after. Corla continued to wage the Shadow War by taking on the human identity of Corla Shilak. She infiltrated the Midway City Museum as the replacement for the late Mavis Trent. The Shadow War continued.[3]
Invasion of Earth
Section not yet written

Modern Age History
Section not yet written



Points of Interest
Medal Mint

The Medal Mint produces the bulk of the reward medals for valorious Thanagarian citizens, particularly the Thanagarian Wingmen. A group of thieves known as the Dragonfly Raiders once robbed the Medal Mint under the instruction of Byth Rok. During the encounter, they ran afoul of Hawkman and Hawkgirl.[4]
Sea of Scythia

The Sea of Scythia is located near a series of caves and grottos. Byth Rok and his criminal confederate Jarl once used the caves as a base of operations until Hawkman and Hawkgirl trapped them with a wave of radiation.[5]
Thanaldar

Thanaldar is one of the major cities of Thanagar. It took over one-hundred years to erect the city, and it was designed primarily to house Thanagar's ruling council. Thanaldar is the home of Paran Katar and his son Katar Hol.
Veil of Valmorra

The Veil of Valmorra is a giant waterfall on Thanagar and the one-time hideout of the Rainbow Robbers. This is where young police officer Katar Hol first met his new partner Shayera Thal. This was also where, several years later, Katar first proposed to Shayera.[6]
Incomplete
There's something missing here. This section of the article is incomplete, and contains information, but requires more before it can be considered complete. You can help the DC Database Project by editing this page, providing additional information to bring this article to a higher standard of quality.
Residents
Pre-Hawkworld
Post-Hawkworld
Technology
Wildlife
See Also
Links and References