Tweedledum and Tweedledee (New Earth)
Talk

8
80,169pages on
this wiki
Lazy and obese, Tweedledum and Tweedledee have no fighting skills at all. They rely on their cunning and ruthless strategies in order to commit crimes. Dumfrey and Deever Tweed are cousins who resemble each other so closely that they are often mistaken for identical twins. The pair are known as Tweedledum and Tweedledee, both as a play on words on their real names, and because they closely resemble Sir John Tenniel's depictions of those characters in Lewis Carroll's sequel to Alice's Adventures in Wonderland entitled Through the Looking-Glass. The two Tweeds always conduct their criminal activity in partnership with one another. They prefer to mastermind criminal schemes and let their henchmen carry out any necessary physical activity. The Tweeds will often use their extraordinary resemblance to trick their opponents into thinking there is only one of them. Tweedledum and Tweedledee first encountered Batman and Robin when they began a crime spree in Gotham City. Batman and Robin have fought against the Tweeds and have overcome them on subsequent occasions.
The pair makes an appearance in Arkham Asylum: A Serious House on Serious Earth as inmates in Arkham Asylum. In this incarnation, they appear attached to each other by a pair of electroshock helmets, with Tweedledum representing the right half of the brain, and Tweedledee the left.
Although Tweedledum and Tweedledee are most often depicted as being the leaders of their own criminal organization, they sometimes are re-imagined as the henchmen of the Joker.
During the Infinite Crisis, Tweedledum and Tweedledee appear as members of Alexander Luthor, Jr.'s Secret Society of Super Villains. Joker refers to them as "Tweedledee and the new Dum" implying that the original Tweedledum is either dead or still incarcerated. It was later confirmed in Detective Comics #841 that Dumfree Tweed had died and his twin brother Dumson Tweed had taken his place.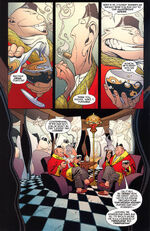 Recently, in Detective Comics #841, the new Tweedledum and Tweedledee were part of the Wonderland Gang. Originally believed by the public to be run by the Mad Hatter, it was revealed that The Tweeds really ran the gang using one of Tetch's own mind control on him in order to cash in on his notoriety. They filled the Wonderland Gang with other pairs based on Alice in Wonderland (such as the Lion and the Unicorn and the Walrus and the Carpenter), but the Mad Hatter eventually got back at them by sticking mind control chips on the two and turning them on each other. After some imprisonment, the Tweeds reformed the Wonderland Gang with the Walrus and the Carpenter but were quickly apprehended by Batman, Robin and Nightwing.

Powers and AbilitiesEdit
Powers
None known but large and heavy.
Abilities
Criminal Masterminds
Strength level
Natural. Engage in almost no regular activity.

ParaphernaliaEdit
Weapons
Guns, Electric Canes

The characters of Tweedledum and Tweedledee were originally created by novelist Lewis Carroll for the 1871 children's story, Through the Looking-Glass (more commonly referred to as Alice in Wonderland).

Tweedledum and Tweedledee are often mistaken for twin siblings due to their close physical resemblance; however, they are actually cousins.
Related
Discover and Discuss
Footnotes