History
During the conflicts in the middle east, the Unknown Soldier was fought in Afghanistan and was fighting for the Americans. .[1] Sometime later he was recruited by Amanda Waller secretly the Thinker using a hologram) to be a new team leader of a new Suicide Squad team. The team consisted of Steel, Warrant and Power Girl. The team's mission was to extract Omac from a facility located in the Rocky Mountains.[2] While trying to get Omac Unknown Soldier and his team found themselves opposed by the real Suicide.

Powers and Abilities
Powers
Unique Physiology: The Unknown Soldier is an expertly trained soldier in armed and unarmed combat. Furthermore the current one has undergone a special procedure by A.M.M.O. (Advanced Military Medical Operations) that gives him low level metahuman abilities.
Abilities
Related
Links
Footnotes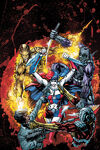 Suicide Squad member
This character is or was a member of the Suicide Squad, a team of imprisoned super-villains who perform high-risk missions for the U.S. Government in exchange for commuted sentences, in any of its various incarnations. This template will categorize articles that include it into the "Suicide Squad members" category.