History
---
---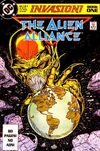 ---

I worked at a comic book store in Fremont, CA called "The Comic Depot" from June 29, 1989 (when the "Batman" movie opened) until November 2002. The store was sold shortly after I left. ;(

---

I currently work at SFSU as an accountant. I live in San Francisco and shop at Al's Comics. Al's Comics SF store closed, and I have been shopping at Treasure Island Comics since November 2011.

---
---
Currently working on "framing" all of the DC War Titles. Reviewing titles published by companies that DC bought-out.
Adding New issues of:
Prior work: "Framing" Impact titles. I also added new issues of Jonah Hex.
Next Projects: review horror; frame romance, teen, western.
I want to be able to look at a month - any month, any year - and see all the covers for every DC Comic that came out. Awesome!

Powers and Abilities
Powers
Can walk up behind people silently and scare them.

Abilities
Can count to 10. Uses addition and subtraction.

Strength level
Average (presses body weight)

Weaknesses
None known.

Paraphernalia
Equipment: None known.
Transportation: None known.
Weapons: yes

Notes
My current favorites as of April, 2013 are Aquaman Vol 7, Blue Beetle Vol 9 (cancelled), Frankenstein, Agent of S.H.A.D.E. Vol 1 (cancelled), and Phantom Stranger Vol 3.
My current favorites with the New 52 re-boot, so far, are Aquaman Vol 7, All-Star Western Vol 3, Batwoman Vol 1, and Blue Beetle Vol 9, out of the forty-nine #1's I have read, as of November 15, 2011. I also enjoyed Frankenstein, Agent of S.H.A.D.E. Vol 1 1 quite a bit...
My current favorites, prior to The New 52 re-boot are Xombi, Superboy (Vol 5), Jonah Hex, and T.H.U.N.D.E.R. Agents
My current favorites as of April 2011 are R.E.B.E.L.S. (Volume 2), Jonah Hex, and T.H.U.N.D.E.R. Agents.
My current favorites as of February, 2010 are Batman and Robin and R.E.B.E.L.S. (Volume 2).
My favorites, as of April, 2009, are Jonah Hex, Booster Gold, and Green Arrow and Black Canary.
My all-time favorites include:
My favorite characters are the Spectre, Deadman, and Green Lanterns in general.
Besides DC Comics, I also collect Usagi Yojimbo, Groo, Poison Elves, and G.I. Joe.
My favorite creators are Keith Giffen, Stan Sakai, Sergio Aragonés, P. Craig Russell, Charles Vess, Moebius, Neil Gaiman, Ted McKeever, and Tom Mandrake.

Trivia
Goblyn4evil had been DJ'ing Industrial music in the ElektroLounge (a monthly industrial club within House of Voodoo - a Goth club established in San Francisco in 1999) as DJ gobLyn since April 2007 until August 2009, and again from January 2011 to May 2011. Prior to that, he worked security for House of Voodoo since October 2003. Besides ElektroLounge/House of Voodoo, Goblyn4evil has DJ'ed in San Francisco's gothic/industrial scene, first as DJ Dom.E.Nator, and later as DJ gobLyn, since 1992. Some of the clubs he's DJ'ed at include: The Twilight Zone (assistant), House of Usher (guest), Damnation Alley, Through the Looking Glass, Cemetary, Orgasmatron, Monastery (guest), Dekonstrukt (guest), Work*13, Circuit Breaker, R.I.P., and AfterParty.

See Also
Links and References
make an account and add Squirrel_Nutcan's bands to your favorites. Buy and listen to the albums!
Remeber: It costs you nothing to "buy" these!