Current Alias
Green Lantern
Aliases
Green Lantern, True Force
Base Of Operations
Unknown
Characteristics
Status
History
Much like the other Kryptonians defending Earth, Satya was sent from the planet during it's destruction and crash landed on Earth. Unlike with Superman, the person who found Satya did not want a child. He used her as part of a scam and left the the infant alone and crying. Soon she was taken to an orphanage. The infant was strange, stronger than she should have been, and many people reported to see her "float" in the air, leading her many to believe she was possessed by some sort of spirit.
But by the time she was 5, Satya knew she had to hide her abilities or she would be singled out. She lived a quiet life in the orphanage until she turned 13. A boy was brought to the orphanage, his family murdered, their money stolen. There was no evidence to make an arrest, but the boy had seen those responsible: two head members of a local gang. A few nights later, she snuck out of the orphanage to set things right.
Satya ransacked the gang's hide out. She was originally surprised by the amount of resistance put up, and pleased to find that bullets bounced off her. She found a family heirloom stolen by the gang and placed it in plain sight before calling the police and returning to the orphanage.
Satya got her name shortly after. She decided a name given to her simply to have a name on file was too impersonal and she looked for her own. She settled on Satya Seiko, for "truth" and "force". She was adopted a year later and her new parents helped her legally change her name. She debuted as the costumed hero True Force some time after.
True Force didn't see as much action as most heroes. Mostly she just righted wrongs done to the children of her school. After moving off to college Satya tried to become a fully time hero, but trying to balance her two lives caused her to fail out of college.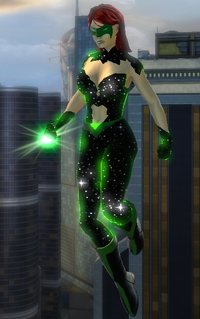 Around this time, a
green power ring
came to her, inducting her into the
Green Lantern Corps
.
It was during her first visit to Oa that Satya discovered that she was actually a Kryptonian. Upon discovering this was the source of her powers, Satya tracked down Superman and asked him to be her mentor.
Time unknown: While working with Superman he found the rocket Satya had arrived in. He offered to tell Satya her Kryptonian name and family, but she declined, deciding that the name she had given herself was the only "true" name she needed.

Powers and Abilities
Powers
Kryptonian Power set
After spending so much time fighting along side Maximum Bolt, Satya's body has absorbed some of his magic, allowing her to use a word of power. This takes the form of a lightning bolt striking Satya which heals her and damages those nearby.

Abilities
Indomitable Will: With the power of her ring, Satya can create hard light constructs powered by her own will.

Strength level
Unknown.

Weaknesses
Like most kryptonians kryptonite will weaken Satya, but using her power ring she is able to shield herself from a majority of the effects, only slightly lessening her physical strength.

Paraphernalia
Equipment:
Transportation: None known.
Weapons:
Notes
Trivia
See Also
Links and References