Vril Dox (Earth-One)
Talk

2
76,943pages on
this wiki
Originally created on the distant planet of Colu as the humanoid interface for a massive computer network, Brainiac was created as a perfect operating system that began developing by cataloging and storing massive amounts of data and information of the planet. Gaining functional sentience, Brainiac was processed into a functional spy for the ruling class of Colu who were being assaulted by rebels who sought to overturn the repressive government.[1]

To increase the illusion that Brainiac was an actual living biological Coluan and not a very mobile super computer, the brain impulses of a dying scientist were downloaded into him and he was given a "son", a young Coluan boy named Quil Dox who would later become known as "Brainiac 2". Later stories changed this history and state Brainiac created the boy himself rather than was an independent being. Vril Dox 2 was an independent person and not a cloned creation.[2]

Upon developing his cover Brainiac achieved his original mission and successfully infiltrated the rebels and destroyed them from within. But Brainiac's independence soon overgrew his masters and he defeated them as well. But with now two different factions unified in removing Brainiac from power, the humanoid computer was forced to flee the planet. Brainiac would establish a new power base on Bryak but was again driven from it as with Colu. Re-evaluating one of his original directives to begin cataloging information but now for his own personal power, Brainiac began searching the universe for ever increasing powers and techniques that would ensure his success over other opponents. Brainiac would find one such technique that would allow him to literally tower over others through a shrinking ray whereby he could remove entire massive kilometer wide cities and minimize them and their populace into almost microscopic sized beings. Brainiac began testing the technique on other planets cities but usually met with mixed results if not complete failure in restoring the cities later.
It was during one of these search of populated cities that Brainiac encountered Superman of the Earth-One dimension as Brainiac intended to take Metropolis as a test for his shrinking and re-enlargement process. Superman defeated Brainiac and his advanced weaponry driving him away from Earth.
Finding Superman as the ultimate test of his abilities which would practically ensure his practices of conquerance throughout the cosmos, Brainiac would return tin many attempts to overwhelm Superman in various schemes. On several occasions, Brainiac teamed up with the equally super-intelligent Lex Luthor in his plans to defeat Superman and various other parallel heroes throughout the years.
Despite having superhuman strength and speed in his original form, Brainiac found that his original form was limited especially in comparison to Superman who would routinely defeat him. Brainiac decided to recreate his biological format into a more robotic looking format comprised of "living metal" which also comprised his mobile weapons platform as a means of direct advancement whereby he was no longer just limited to one body but could directly merge into electronic devices and other metals. [3] After this upgrade, Brainiac was able to directly merge and interface with all forms of computer electronic devices directly controlling them and accessing other devices than just through pre-crafted interface plugs like the one on his original head. Brainiac was also no longer just limited to his singular body as he could now transmit his mind into other electronic devices that were capable of containing his consciousness or at least some major portion of it.
Brainiac would remain in this format during the Crisis on Infinite Earths where he was destroyed and recreated as the biological Vril Dox, who transmitted his consciousness to the human Milton Fine and restarted his personal ambitions to conquer the universe and be opposed by the current incarnation of Superman and many times teaming up with the new Lex Luthor though mostly against Brainiac's own decisions and choices unlike the open partnership the Earth-One incarnations had.

Powers and AbilitiesEdit
Powers
Superhuman intellect as due to his true android computer neural network.
Abilities
Many intellect abilities afforded to him by his computer nature as well as other abilities.
Strength level
Both of his artificial bodies possessed superhuman strength and endurance though his later Robotic form had far more strength and endurance than his biological-simulation body.

ParaphernaliaEdit
Equipment
Many offensive and defenses devices used in his plans of conquest:
Hyper-Ray
Ultra-Force Shield
Transportation
Various interstellar transport ships

Skull Ship: Later mobile platform composed of the same "living metal" that he upgraded his primary body out of that was mostly shaped like his new skull-like head with tentacles extensions on the lower levels of the platform.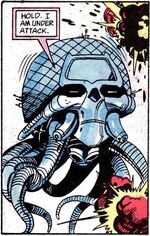 Weapons
Brainiac had access to a wide variety of futuristic weaponry.

This version of Vril Dox (Earth-One), including all history and corresponding appearances, was erased from existence following the collapse of the Multiverse in the 1985-86 Crisis on Infinite Earths limited series and is now considered apocryphal.
Unlike the current incarnation of the character, the Earth-One Brainiac is an manufactured android and not a biological being. The current Brainiac is indeed the cover that this incarnation pretended to be, a biological Coluian scientist named Vril Dox with a biological son.
Related
Discover and Discuss
Footnotes