Waylon Jones (Arkhamverse)
Talk

0
76,870pages on
this wiki
Killer Croc was one of the criminals that broke out during the Joker's takeover of the Asylum. But Jones didn't exactly work with Joker, and didn't seem to have a specific place in Joker's plans. However, Croc was intent on killing the Caped Crusader should he get the chance. When Batman journeyed into the sewers of the Asylum, Croc was there stalking Batman the whole way, sometimes coming close to achieving his goal. But in the end, a well thought out plan, and a bit of well placed explosive gel was enough for Batman to put an end to Croc's hunt.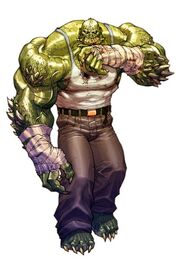 Killer Croc makes a short cameo in the sewers of Arkham City. Batman states he does not wish to fight, to which Killer Croc replies he can smell death upon him and that it won't be long before he feasts upon his corpse.
Also, Croc makes another cameo in the Iceberg VIP Challenge Map. Croc can be seen behind the gate drinking and smoking a cigar. Croc does not interact with Batman afterwards.

Powers and AbilitiesEdit
Powers
Weaknesses
Unprotected Face: Jones, although having superhuman durability, is extremely vulnerable to attacks at his face. If hit in the face, he temporarily loses focus.

In Batman: Arkham Asylum Killer Croc is Played by Steven Blum. In Batman: Arkham City Killer Croc is played by Dee Bradley Baker.
Related
Discover and Discuss
Footnotes