A 196,833 dimensional object not unlike a snowflake embedded within the higher dimensional fluid medium of the Bleed, this was the former home of the DC Multiverse's Earth-50. Capable of being traveled through via Carrier, this Multiverse is to a certain extent self-
History
A 196,833 dimensional object not unlike a snowflake[1] embedded within the higher dimensional fluid medium of the Bleed,[2] this was the former home of the DC Multiverse's Earth-50. Capable of being traveled through via Carrier[3], this Multiverse is to a certain extent self-policing, arranging the births of the likes of the Century Babies to defend it.[4]


Points of Interest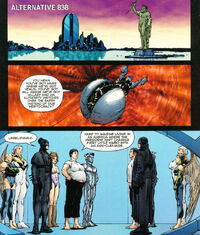 Notes
See Also
Links and References
Ad blocker interference detected!
Wikia is a free-to-use site that makes money from advertising. We have a modified experience for viewers using ad blockers

Wikia is not accessible if you've made further modifications. Remove the custom ad blocker rule(s) and the page will load as expected.