Zur-En-Arrh
Talk

4
79,940pages on
this wiki

Official Name
Zur-En-Arrh
First appearance
Batman Vol 1 113
History
Zur-En-Arrh is a repeated phrase in the Batman comic series.
Origin
Zur-En-Arrh was first used as the name of a planet in France Herron's 1958 story Batman - The Superman of Planet-X featured in Batman #113. In the story, a Batman from Zur-En-Arrh brings what would become Earth-One Batman to his planet to help him battle robots. While on the planet, Earth's Batman found he had "Superman-like" powers.
Resurrection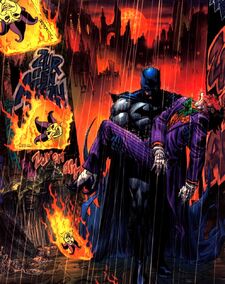 When Grant Morrison took over the Batman series in September 2006, he immediately began referencing classic moments from the character's career, including utilizing a version of Bat-Mite and reusing a costume and dialogue from issue 156.[1]
Among the references was the Zur-En-Arrh phrase, which appeared very nearly covering an alley and again on a dumpster in issue 655 and continued to appear, usually as a background element graffiti, until the Batman R.I.P. story arc began, at which point it was brought to the forefront.
Related Articles
No Related Articles.
Notes
Trivia
Links and References
Footnotes